The Niagara Peninsula Source Protection Area (NPSPA) is located between Lake Ontario and Lake Erie, and covers the same area as the Niagara Peninsula Conservation Authority (NPCA).  The NPSPA is 2,424 km, squared, in size, and the jurisdiction covers the Regional Municipality of Niagara (Regional Niagara) and approximately 20 percent of the City of Hamilton and 25 percent of Haldimand County.  There are also 12 second tier municipalities located within Regional Niagara generating a population of around 450,000 people.
Within the NPSPA, municipal drinking water is derived exclusively from surface water sources.  There are no municipal groundwater systems currently used in Niagara Peninsula Source Protection Area. The surface water sources include the following Water Treatment Plants (WTPs), all of which are owned and operated by the Regional Municipality of Niagara:
Grimsby WTP
Decew Falls WTP
Niagara Falls WTP
Welland WTP
Fort Erie (Rosehill) WTP
Port Colborne WTP
Municipally serviced areas in the Niagara Peninsula are generally restricted to the larger developed urban centers, however a number of villages are also serviced by municipal water, such as Jordan.  Serving approximately 392,000 people, each of these systems is considered a large municipal residential system as defined by O. Reg. 170/03 (Drinking Water Systems), under the Safe Drinking Water Act.  It is estimated that approximately 15% of area residents rely on private wells or other sources for their drinking water.
Intake Protection Zones (IPZs) are one of the four vulnerable areas defined in the Clean Water Act and must be identified.  IPZs are the designated protection area around the raw surface water intakes of the WTPs.  IPZ delineations and vulnerability scoring for the six WTP intakes are being completed in accordance with MOE technical rules.
Jurisdiction Map
Click to Enlarge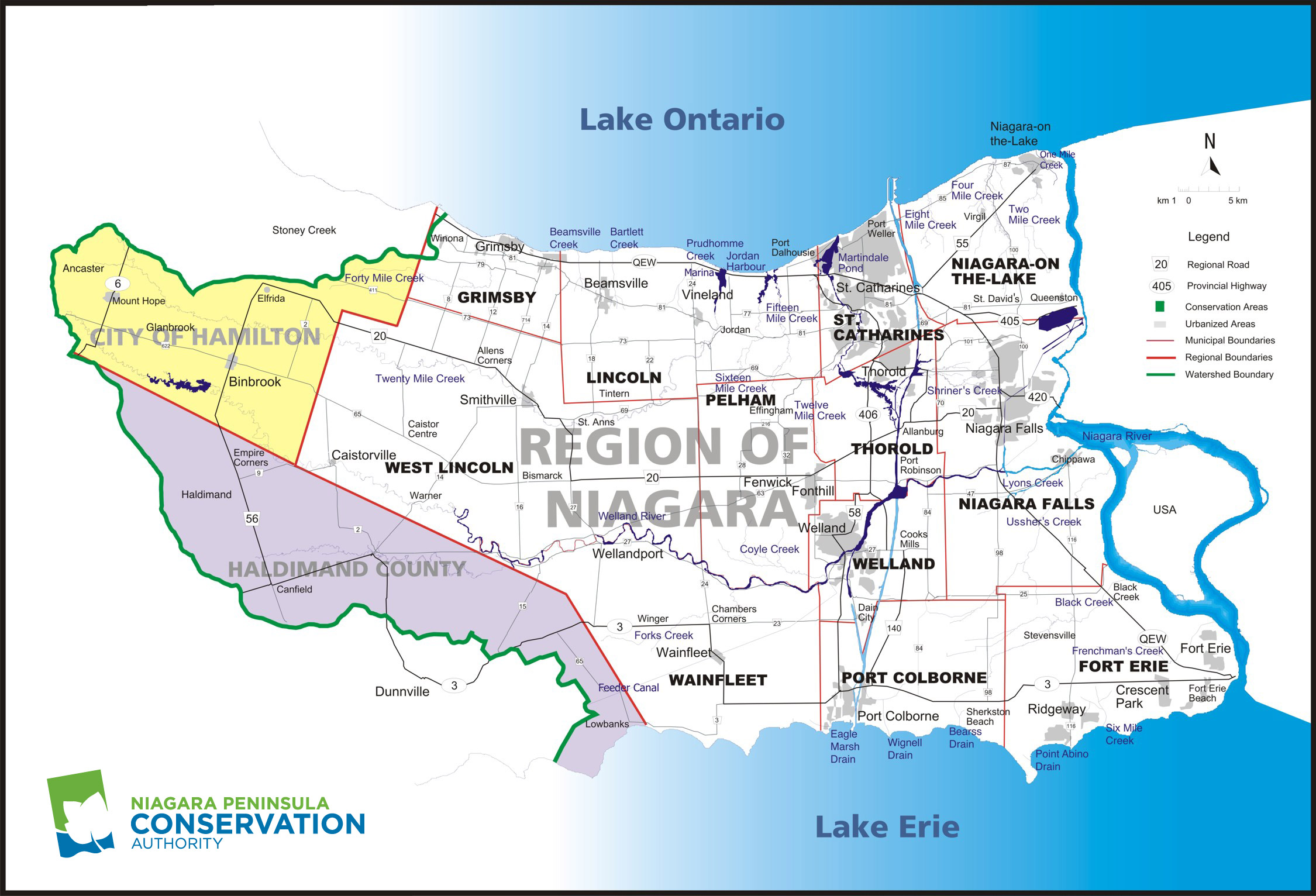 Documents for Download
Water Availability Study for the Central Welland River, Big Forks Creek, and Beaverdams Shriners Creeks Watershed Plan Area – January 2009
Water Availability Study for the Fort Erie Watershed Plan Area – January 2009
Water Availability Study for the Fifteen, Sixteen and Eighteen Mile Creeks Watershed Plan Area – January 2009
Water Availability Study for the Grimsby and Lincoln Watershed Plan Area – January 2009
Water Availability Study for the Lake Erie North Shore Watershed Plan Area- January 2009
Water Availability Study for the Niagara-On-The-lake Watershed Plan Area – January 2009
Water Availability Study for the South Niagara Falls and Lower Welland River Watershed Plan Areas – January 2009
Water Availability Study for the Twelve Mile Creek Watershed Plan Area – January 2009
Water Availability Study for the Twenty Mile Creek Watershed Plan Area – January 2009
Water Availability Study for the Upper Welland River Watershed Plan Area – January 2009
Significant Groundwater Recharge Area Delineation – October 2009
Groundwater Vulnerability Analysis – November 2009
Watershed Characterization Report – December 2009
Niagara Peninsula Tier 1 Water Budget and Water Quantity Stress Assessment Final Report- January2010